How to Spot Trading Opportunities
How To Use Bar Patterns to Spot Trade Setups
30 Instructional Charts With Simple Explanations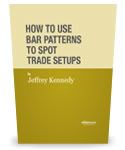 If you are a trader or are the least bit interested in trading, you're most likely "chart-centric." A good chart is priceless if it helps to identify a great opportunity.
But without the right education, you could be missing high-probability trade setups that should be staring you right in the face.
That's where our FREE report,
How to Use Bar Patterns to Spot Trade Setups
, can help. You'll learn to identify and capitalize on bar patterns such as the Double Inside Day, the Arrow, and the Popgun. And you'll get a brand a new addition to the original report, "How to Make Bar Patterns Work For You," which adds two more important patterns: the Three-In-One Bar Pattern and the Outside-Inside Reversal.
Download Your Free Bar Patterns Report Now
.